What has Auckland got to offer you?
The city of Auckland, New Zealand's largest city with a population of around 1.8 million people, is one of the most liveable cities in the world (2021 Economist Intelligence Unit's (EIU) annual ranking of the most liveable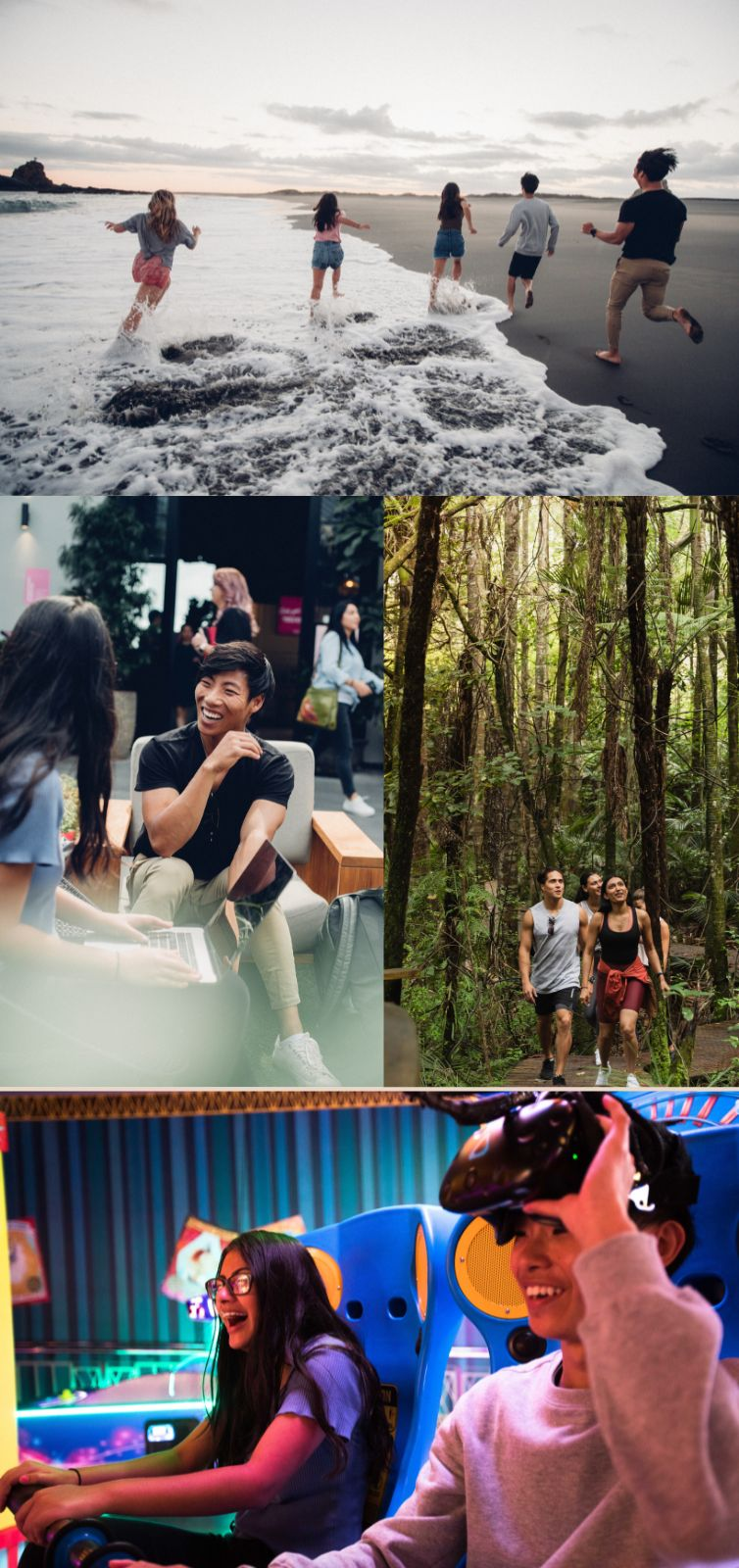 cities)
Auckland is well known for its beautiful harbour, amazing beaches, forest and great places to eat and relax and places for you to explore. as well as a great night life. Auckland is excellent city for many academic, sporting and leisure activities. It is within easy access to many of the New Zealand's other main cities and attractions.
Auckland has a great climate as well - not too hot, not too cold – usually just right, averaging 24 degrees in summer and about 15 degrees in winter. It's the kind of weather that means you can take advantage of all that there is to see and do around the city.
Here are some reasons why we believe Auckland is an amazing city for you to study in.
The world's most liveable city
Excellent tertiary education opportunities from highly ranked Universities, after attending Liston College
The gateway to New Zealand, from which you can explore the rest of the country.
A vibrant and diverse culture, where there is plenty of international food, events and festivals you can indulge in throughout the year.
You will be able to interact with "Kiwis" from around the world and make new friends with people from around the globe.
There is lots for you to see and do – shows and festivals, sporting events, a huge number of cafes to find, beautiful scenery and many adventure activities for you to go on.
Just a 12-hour flight from many major Asian Cities, a little longer for the Americas and Europe
A great climate, where you can enjoy the outdoors all year round.
Downtown Auckland is just 20 minutes' drive from the Liston College campus.
Click here to find out more about studying in Auckland
Benefits of International Students Studying in New Zealand
We all know New Zealand is a beautiful country, but there's a lot beyond its picturesque landscapes. With a population of just under 5 million, a clean, safe and peaceful country with a great climate (South Island climate is temperate and in the North Island is sub tropical), what better country could an international student want to study in.
As a result, New Zealand has emerged as one of the topmost study locations in the world for international students, wanting to study abroad.
With a world class education system, a safe environment and great quality of life along and so many opportunities, New Zealand has a lot to offer. While studying here, you can be assured of a welcoming and friendly people with an excellent support system for international students.
Here are some of the top reasons why you should New Zealand for your further education.
The ability to gain a world class education:

A large number of Internationally recognised qualifications available and seamless entry to Universities and Technical Institutes from Secondary school
New Zealand's eight universities are ranked in the top 3% in the world

(the University of Auckland ranked in the QS world top 100)

Great teachers and teaching in well resourced schools and tertiary institutes, with well-equipped facilities, access to latest technology, equipment, and opportunities
New Zealand's education system teaches new ways of thinking and doing – the ability to solve problems, work with others, create and innovate. It also helps build confidence and independence so that an international student can reach their full potential.
New Zealand is ranked the #1 English-speaking country in the world in preparing students for the future

(Worldwide Educating for the Future Index)

New Zealand ranks 7th for highest performing graduates – ahead of the US, Canada and England

(OECD's Programme for the International Assessment of Adult Competencies)
Low tuition fees in comparison to many other English-speaking countries
A safe, peaceful and least corrupt country, ranking second on the Global Peace Index 2022
Great quality of life:

A high standard of living with international students enjoying clean air, a healthy lifestyle and quality food and accommodation.
living in New Zealand means that international students can interact with our diverse culture, outdoor lifestyle and natural beauty

The secondary school year starts at the end of January and finishes in December. The University year varies according to the institution and courses taken.
You can work to support your studies, up to 20 hours a week, from Year 12 onwards (must apply in conjunction with a VISA)
The provision of a "Code of Practice" specifying the role of Schools and Tertiary Institutions in ensuring the provision of Quality Education and practices to support the wellbeing and safety of International Students.
Click here to find out about why you should study in New Zealand