Bus 12 Change of Route 'Wairere Rd MOE 1975' - 22.02.23
Duffys Rd and have determined that the road condition means it is not suitable for school busses to use.
The new morning route until further notice will be amended so that it starts at Waitakere Primary School and then goes to Anzac Valley Rd. It will not pick up on Duffys Rd, Wairere Rd, Jonkers Rd or Bethell's Rd. Similarly in the afternoon it will finish at Waitakere Primary School and not cover the aforementioned roads.
Please note: if you currently have a private arrangement with your bus operator, you will need to contact your bus operator to confirm that your arrangement will continue in 2023.
To make sure that the start of the school year goes as smoothly as possible, please familiarise yourself with the information below.
School Bus Routes:
Download the Complete Bus Route & Timetable Info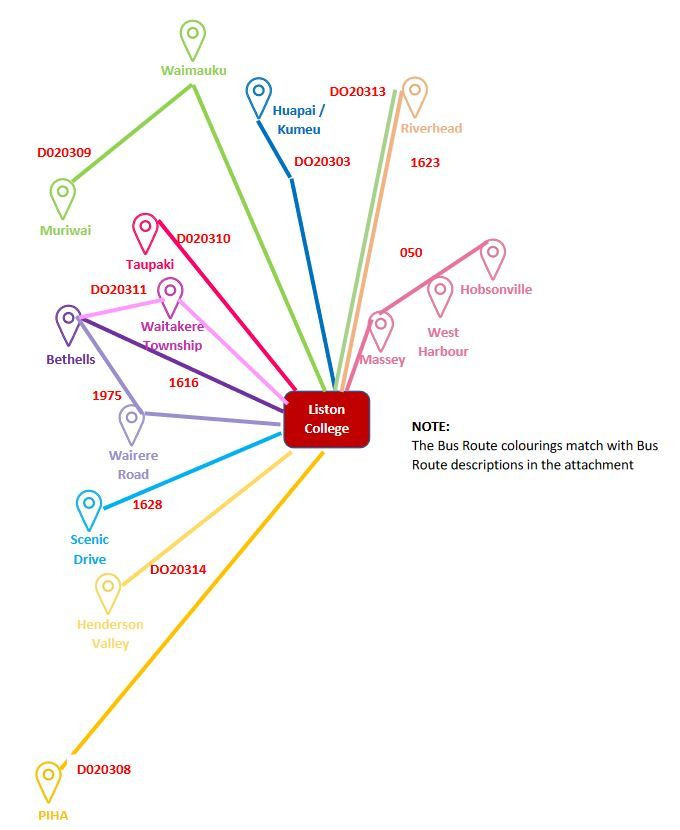 Contact details:
Bus Contractors: Pavlovich: Ph: 620 5490 Ritchies Transport: Ph: 833 6053
Ministry of Education: School Transport Ph: 0800 287 272
Liston College: School transport queries
If you have any queries about our school transport, please contact Mr D Girven our Bus Controller. He can be contacted via his email: [email protected]
Ticket Prices (Current as of 1 December 2022)
RITCHIES
Fast Pass Card from driver for $7.00. Ten rides cost $25.00
PAVLOVICH: 050 Hobsonville, West Harbour and Massey Run
$9.00 for 1 stage or $18.00 for 2 stages.
PLEASE NOTE: Ticket / concession prices need to be confirmed with the drivers.
Ministry of Education funded Buses (Current as of 1 December 2022)
1616 Free for students more than 2.4km from Waitakere or Swanson Rail Stations. Otherwise a pay bus.
1623 Free for students 2.4km from SH16. All other students a pay bus.
1628 Free for students 2.4km from Swanson Road and 4.8km from Liston College to Range Rd then a pay bus.
1975 Free for students 2.4km from the Waitakere Rail Station. Boundary 200m from Duffy's Rd intersection. Then a pay bus.
1978 Free for students 2.4km from SH16 and 2.4 km from Waitakere Rail Station.
DO20308 (ex 1611) Free for all students 2.4km up West Coast Road and meet MOE Criteria (Controlled by St Dominic's College).
DO20309 (ex 1614) Free from Muriwai to 2.4km from Waimauku School.
DO20310 (ex 1615) Free for students 2.4km from Waitakere Station and 2.4km from SH16. Then a pay bus
Eligibility:
View this video from the Ministry of Education that helps explains the eligibility criteria for school transport assistance. Please note that the Ministry of Education has three criteria that students must meet in order to qualify for school transport assistance.
They are:
The student must attend their closest state or state-integrated school

The student must live more than a certain distance from the school

Years 1-8: At least 3.2 km

Years 9-13: At least 4.8 km

There must be no suitable public transport options
Thus all students within 4.8km of Liston / St Dominic's, within 2.4km of Waitakere or Swanson Rail Stations, within 2.4km of SH16, Hobsonville Rd, are deemed not eligible for free transport. Students in Henderson, Massey, West Harbour, Glen Eden and like areas are deemed to have access to public transport and are also not eligible.
Please Note:
All eligible students on Ministry of Education funded buses will receive a bus pass which must be presented to the driver each ride

Paying students have access to a bus where there is room after all eligible students are accommodated. All students must be seated.

Non eligible students wishing to access one of the above buses on a casual basis will need to purchase a ten-ride ticket from Pavlovich or Ritchie's Transport.
Public Transport
There are too many options to list here and you will need to plan your son's bus and / or train journey using the timetables and route maps available from Auckland Transport's
Click on this Link for a journey planner
Behaviour Expectations while on a School Bus
Students are advised that the aim of the bus is to provide safe and enjoyable alternative transport to and / or from school for all students who use the bus. While on the bus, full school rules will apply at all times.
While it is unlikely to occur, the Bus Driver has the authority to contact the school if a pupil breaches school rules and if necessary can temporarily ban a student from using the bus.
NO inappropriate language

NO spitting, fighting, assault or harassment of any kind.

While the bus is moving, all students MUST remain seated at all times.

Student property – bags, coats, cell phones etc – remain the responsibility of the student

No vandalism
Responsibility of caregivers
To ensure a safe environment for bus loading and unloading caregivers should:
not park in bus bays

adhere to the speed limit (20 km/h while passing a stationary school bus on either side of the road)

try to eliminate the need for children to cross the road

ensure that children get to and from the bus stop safely

teach children to not run across the road

either stay with your children while they are waiting for their school transport in the morning or keep in contact with them to make sure that they are picked up safely.