It was great to see our Year 12 and 13s boys attending the New Zealand Defence Force Presentation on Thursday to find out about the lifestyle and range of exciting roles in the army, navy and airforce and the recruitment process.
For more information on a Defence Force pathway: NZDF Careers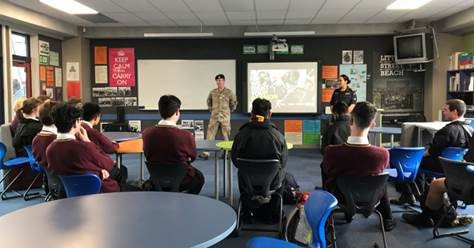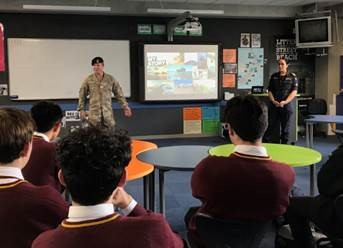 COMING UP IN SCHOOL:
Year 13 Tertiary Scholarships Meeting – Tuesday 30 June (1:45pm in R3/4)
**IMPORTANT ** Year 13s interested in applying for scholarships to help fund their tertiary study in 2021 are asked to come to this meeting during afternoon form-time. No need to sign up!
OTHER EVENTS:
Otago University Faculty of Law Presentation – Monday 29 June (6:15pm-8:00pm)
Interested in studying law? Wondering what student life at Otago University in Dunedin is like? Year 12s and 13s and their parents are invited to come along to this presentation at the university's office – Level 4, 385 Queen Street, Auckland (parking available).
AUT Parents' Online Information Evening – Tuesday 30 June
Encourage your parents and whanau to attend this webinar with you to hear about programmes, entry requirements, support and services. Helpful resources created for parents will be shared. Register: Here
Engineering Futures Evening Online (Auckland University) – Tuesday 30 June & Wednesday 1 July (5:30pm)
Tuesday's session is an introduction to engineering at UoA for students and parents. Wednesday's session is about what it is like to study at the faculty including support, clubs and a virtual tour of the new engineering building. Register: Here
Art & Design Information Day (AUT) – Thursday 9 July (school holiday). Applying to study art & design at AUT? Don't miss this! Hear about the different majors and how to submit an electronic portfolio at one of the two sessions. Register: Here
Media Design School Mini Open Day – Wednesday 15 July (10:00am – 1:00pm)
Visit the Auckland campus in Albert Street and find out about the range of programmes E.g. in Game Art, Graphic Design, 3D Animation and Game Programming. Register: Here
UNITEC July School Holiday Workshops: Dance/ Quantity Surveying/ Architecture/ Film & TV/Acting/Early Childhood Education
Get a taste of some of the programmes the polytech offers, explore career ideas and develop your skills by attending one of these free workshops. Some courses may be full already, so don't delay. Register: Here
OTHER INFO & RESOURCES
Media Design School's Bright Awards – This is a chance for up and coming creatives to showcase their hard work and take the first step towards making a name for themselves in the industry. Each winner of the Bright Awards will not only be recognised as one of New Zealand's up-and-coming emerging creative talents, they will also win major prizes for themselves and their schools. The winner of each category wins $1000 for themselves and $3000 for their school! Categories: Graphic Design, Photography, Games, Animation, and Web + Interactive. Entries open from 1 July - 15 September.
Tertiary scholarships – More information at Tuesday's meeting but in the meantime, check out useful info and links on MoneyHub
Sarah Shepheard, Careers Advisor